Trail of Lightning
by Rebecca Roanhorse
(The Sixth World, Book #1)
Pages: 248 (e-copy) // Publish Date: June 26, 2018 // Genres: Dystopian, Urban Fantasy
Thank you to Simon & Schuster Canada and NetGalley for this electronic copy of this book in exchange for an honest review!
Summary as Provided by Publisher
While most of the world has drowned beneath the sudden rising waters of a climate apocalypse, Dinétah (formerly the Navajo reservation) has been reborn. The gods and heroes of legend walk the land, but so do monsters.
Maggie Hoskie is a Dinétah monster hunter, a supernaturally gifted killer. When a small town needs help finding a missing girl, Maggie is their last—and best—hope. But what Maggie uncovers about the monster is much larger and more terrifying than anything she could imagine.
Maggie reluctantly enlists the aid of Kai Arviso, an unconventional medicine man, and together they travel to the rez to unravel clues from ancient legends, trade favors with tricksters, and battle dark witchcraft in a patchwork world of deteriorating technology.
As Maggie discovers the truth behind the disappearances, she will have to confront her past—if she wants to survive.
Welcome to the Sixth World.
My Thoughts
Yay, my first NetGalley review! This was such an exciting read. It's been a while since I tried a new Urban Fantasy novel so I'm so glad I was able to read this one! It was a quick & easy read, I think I finished it within 2 days or so.
Based on the description alone, it was insanely attractive. I gave it a yummy 4/4 Super Dessert Popsiciles. (For my new rating system – click here)
Super Power Monster Slayer + Gods & Tricksters + One Good Lookin' Medicine Man = Hello, sign me up!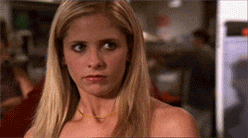 To me, this had some strong Buffy the Vampire vibes. Maggie is stubborn and antisocial, and she is battling within herself of whether or not what she's become is bad — and worst, does she even care? She's pretty much written off most of the world until she meets Kai, the good looking grandson of the local medicine man. He too has special abilities but also comes with deep secrets. ooooo secrets.
I really enjoyed Maggie – despite her pig headedness & being her own worst enemy. You kinda need to warm up to her. Kai was even more enjoyable! He was light and airy to Maggie's dark & stormy. I really appreciated Rebecca's dialogue between her characters, it was probably the most enjoyable parts of the book. She also has a killer way to describe action & death scenes. Man oh man – I will not look at moccasins the same again.
The world the book is based in is a post-apocolytic Mad Max style, where the "Big Water" wiped out most of present day's world and what was left was further destroyed by the energy wars. Dinétah (formally a Navajo reservation) has become a lawless land, where Gods & Monsters now roam. It was a very cool world with huge potential to grow.
I think the shining star of the book was the exposure to the Navajo culture. Not being from the area, it was a refreshing view to read. However, I would have liked a little bit more on the background folklore. I also would like to see a pronunciation guide for the words and names in the final copy.
My only concerns with the book was the pace and that it sometimes transitioned to another scene too abruptly. It was slow in certain parts and too quick in others. I found it took long to get to the meat of the story and then next thing you know it was done.
The reason I decided to give it 4 popsicles and not 3 hamburgers was the fact that I think this book is a great foundation for a series with potential, and I'm excited to see where it will go.
Thank you again to Simon & Schuster Canada and NetGalley for providing an electronic copy of this book in exchange for an honest review.
HAPPY READING!!
About the Author
Rebecca Roanhorse is speculative fiction writer and Nebula/Hugo/Sturgeon Award Finalist for her short fiction, WELCOME TO YOUR AUTHENTIC INDIAN EXPERIENCE(TM), and a 2017 Campbell Award Finalist for best new SFF writer. Her debut novel TRAIL OF LIGHTNING Book #1 in the SIXTH WORLD SERIES (Saga Press) drops June 26th, 2018. Book #2 STORM OF LOCUSTS will follow in 2019. She also has a middle grade novel coming in 2019 from Rick Riordan Presents, titled RACE TO THE SUN. And in 2020, an Anasazi-inspired epic fantasy BETWEEN EARTH AND SKY (Saga Press). She lives in Northern New Mexico with her husband, daughter, and pug.
Learn more at https://rebeccaroanhorse.com/about/