Inspired by a post, Bookworm Confessions: Weirdest Things I've Used as Bookmarks, from Shannon at Spellbound Librarian, I wanted to share all the weird things I use as bookmarks.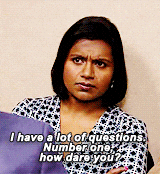 Not gonna lie, I might be shunned from the book community after this post but I'm notorious for losing bookmarks and not even using them. I also have a hard time justifying paying more than $1 for one. I'm also one of those horrible monsters who dog ear pages to the chagrin of my husband and cousin. 😛
So in the recent months, since I've purchased more books, I'm trying to break the habit.
Just for fun since it's Friday — here are some items I use as bookmarks…
Hairbands & Scrunchies

Being a mom, little grabby hands everywhere that love to pull hair, I always have multiple hairbands or scrunchies lying around and they are a great way to keep a place in your book. I just keep it on my wrist and I don't have to worry about losing it.

Random Cards — or McDonalds Coffee Cards?

So I love to collect stamps or coffee stickers. However, forever plagued by mom brain, I forget to bring them with me. Just like Coupons… So I have a pile of incomplete and complete ones. They are rigid enough to withstand bookmark abuse & easy to find when placed inside a book.

Unused Membership Cards

How does every store or retailers have some sort of membership card? So much they just create a sad membership card graveyard in my wallet. Reduce, Reuse & Recycle. They are perfect for bookmarks! My favourite one is the David's Tea membership card – shaped like a cup! So cute!

Gift Cards

Similar to Above, I will also use brightly coloured old gift cards. They are rigid, slim and perfect to stick in the book quickly as you witness your baby start to stick her hand into the dog bowl.

Dust Cover

In situations where I forget or having nothing near, I will use the dust cover for hardcover books to mark my page. Now don't hate me for this, I don't do it for books I'm reading slowly or is 1000+ pages long – but it's so easy and perfect. I've been doing this since I started reading heavily when I was a kid. I used to use the library stamp cards – remember those? They were perfect too…
Honorable mentions…
Phones
If I'm moving locations but still reading, or need to run to the washroom or if I'm cooking, the phone is really good for short term placement.
What are some random things you use as bookmarks? Am I coo coo for using any of these?
Have a wonderful Friday & enjoy the upcoming weekend!
HAPPY READING!!