Thanks to Alyssa Grace @ Serendipitous Reads for tagging me! I actually found her blog through another tag, so fitting we get to connect again through the art of book tags! Please check out Alyssa's blog, it's awesome & amazeballs, and the fact that you're not following it right now is crazy!
6 Questions from Alyssa Grace:
What's the last book you added to your TBR?
At the time of me writing this post, the last book I added to my GoodReads Want to Read list was Archenemies (Renegades #2) by Marissa Meyer. I just finished Renegades on audiobook last week, and enjoyed it so much I can't wait for the next one!!
What book are you most proud of finishing?
Oh, that's a good question and a tough one. I am proud to have read Memoirs of a Geshia, as it will always be a book I hold dear. For physically finishing, I read the original Hunchback from Notre Dame for a Grade 12 English Paper, and I literally wanted to die during it but I finished by the skin of my teeth. I do not recommend it. It is nothing like Disney…
Book universe you'd most like to visit?
Hard not to say the Wizarding World of Harry Potter, because I think I would be a pretty cool wizard.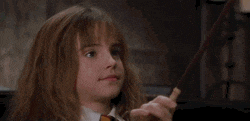 Other than the obvious, I would love to visit (just visit, and run away) the city of Weep in Strange the Dreamer by Laini Taylor. I would also love to see Red London from a Darker Shade of Magic, and smell the flowery scents.
And also because of Rhysland, I would also love to dance and hang out in Velaris <3.
What's the biggest thing you've learned or skill you've cultivated through blogging?
My ability to convey emotions and thoughts through the power of GIFs. It's an important life skill you know.
I know how to host surveys through Google forms now too! I did not know how to do that pre-blog!!
Who's an author, dead or alive, that you would like to meet?
There's a few…
J.K. Rowling (because duh, she is a god amongst men)
Meg Cabot (because I owe her books for inspiring me to read when I was younger)
Kevin Kwan (because I need all the rich people gossip)
Ilona Andrews (because they seem so down to earth and funny on twitter and blog)
Amie Kaufman & Jay Kristoff (obvi, because Illuminae files was amazing and they deserve full praise)
Do you have a favourite place to read?
I don't mind reading anywhere really. I have a favourite time to read – in the morning before my baby and husband are awake, I'll read a few chapters of my book uninterrupted in the comfort of bed. But I have the benefit of being more rested versus starting to drift off in the evening.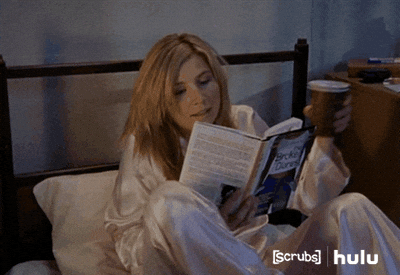 That was fun!! Thank you so much for the questions Alyssa!
Now I tag…
Erin @ The Inky Bookworm // Becky @ Velvet Spade Reads // Sabrina @ Tired Mom Reading // Jess & Teagan @ Fiction No Chaser
AND YOU!! IF YOU WANT TO DO IT, GO AHEAD 😀
Now my questions!!
What is the oldest book on your TBR or GoodReads list? How long has it been on there?
What was the last book you had to DNF?
What is your favourite literary trope?
If you're favourite character (from fiction, TV, or movies) invited you over for a dinner date, what would they make you for dinner?
Do you re-read books? What was the last book you re-read?
You have a bracelet of with 5 pearls on it. Each pearl is worth one very small mundane wish (Daughter of Smoke and Bone reference :P), what five mundane wishes would you make with those pearls?
Thanks for stopping by!! As Always…
HAPPY READING!