Thanks to Sara @ The Bibliophagist for tagging me in this fun tag, I love how I'm your first thought when it came to food related quotes! This one was so fun and I got to showcase my love for The Kiss Quotient as well *heart eyes*.
RULES: 
Thank the Selector
Post 2 quotes for the dedicated Topic of the Day.
Select 3 bloggers to take part in '3.2.1 Quote Me!'
Note: Although this is the topic for today there is no specific deadline to it, meaning you can answer as and when.
(This quote challenge/tag was created by Rory.)
My Quotes:
By the time she sat down next to his mom, the air was heavy with the scents of barbecuing beef, garlic, lemongrass, and fish sauce. He'd rolled his sleeves up to his elbows, and she couldn't help admiring his sculpted forearms as he stirred the contents of the wok.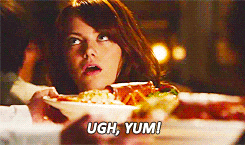 Michael was mint chocolate chip for her. She could try other flavors, but he'd always be her favorite.
Both quotes are from The Kiss Quotient by Helen Hoang.
I tag: YOU! Anyone who wants to do a fun & easy post!
HAPPY READING!