The Poppy War
by R.F. Kuang
Pages: 544 // Published: May 1st, 2018 // Genre: Fantasy
Synopsis
When Rin aced the Keju—the Empire-wide test to find the most talented youth to learn at the Academies—it was a shock to everyone: to the test officials, who couldn't believe a war orphan from Rooster Province could pass without cheating; to Rin's guardians, who believed they'd finally be able to marry her off and further their criminal enterprise; and to Rin herself, who realized she was finally free of the servitude and despair that had made up her daily existence. That she got into Sinegard—the most elite military school in Nikan—was even more surprising.
But surprises aren't always good.
Because being a dark-skinned peasant girl from the south is not an easy thing at Sinegard. Targeted from the outset by rival classmates for her color, poverty, and gender, Rin discovers she possesses a lethal, unearthly power—an aptitude for the nearly-mythical art of shamanism. Exploring the depths of her gift with the help of a seemingly insane teacher and psychoactive substances, Rin learns that gods long thought dead are very much alive—and that mastering control over those powers could mean more than just surviving school.
For while the Nikara Empire is at peace, the Federation of Mugen still lurks across a narrow sea. The militarily advanced Federation occupied Nikan for decades after the First Poppy War, and only barely lost the continent in the Second. And while most of the people are complacent to go about their lives, a few are aware that a Third Poppy War is just a spark away . . .
Rin's shamanic powers may be the only way to save her people. But as she finds out more about the god that has chosen her, the vengeful Phoenix, she fears that winning the war may cost her humanity . . . and that it may already be too late.
My Thoughts
Not going to lie, I have been putting off this review for a long time. Why Maddie Why?? Because this book was just insane, so much happens that my brain was blown away bit by bit.
So The Poppy War was definitely a choice heavily influenced by the book blogging community. I entered this book knowing zero things, and to be honest I think that's the best way to read this book.
So without giving away too much, here's what I loved and didn't love…p.s. I swear more than I usually do in a review, so apologies in advanced!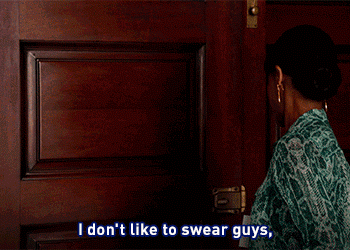 What I loved…
FAST PACED: For a 600 page, this is far from a slow book. A LOT HAPPENS. There is a lot of great dialogue and the story progresses really well.
THE WORLD: The world R.F. Kuang delivers is insanely refreshing.
GIRL POWER: There is a shit ton ('scuse my French) of girl power in this book. Rin, the main character, loves to prove people wrong this entire book. She gives zero f****s and kicks a ton of butt. She is no way a "good guy" and definitely dances on both sides.
CRAZY HIGH TEACHER: Very strong  Mr.Miyagi vibes from one of the teachers, and I lived for it.
THE STORY: Like I said…SO MUCH HAPPENS. I tell you nothing, because you need to experience it fully.
What I didn't love… 
THE WAR: So duh, the title says the The Poppy War, but damn is it ever a bummer. The first half of the story was a coming of age underdog story then in morphed into intense war book. It's like taking The Philospher's Stone (or Sorcer's Stone in the US) and smashing it with the Deathly Hollows.
ALL THE TRIGGER WARNINGS: So I'm pretty sure this book has all the trigger warnings, so be warned my friends. Yes there is intense violence, there is intense violence against women, and yes there is description of rape. It doesn't happen all the time, but is concentrated in one part of the book – specifically chapter 21. So if you're sensitive to what I described, I highly recommend you fast forward that chapter.  But ultimately, it is a war, and with war there is intense violence. I usually have a good stomach for trigger warnings, and even I was cringing at one point.
Ultimately, this book was amazing. It blew me a way and kicked my heart good. I am slightly scared to see where the second book goes, but you best believe I will be first in line to read it.
This book is NOT for everyone, and that's OK. It pushes the boundaries and takes fantasy to a new level. This is NOT a YA book!
I hope I didn't scare you but enticed you to check it out. Go in with zero knowledge and experience this book, because it's definitely a rare gem.
Can you read a book if there is a trigger warning you're sensitive to? Have you read The Poppy War? Let me know what you think in the comments.
Happy Reading!!