Hi Guys! A little late posting today, but hoping everyone is having a wonderful long weekend (if you're in Canada or US)!
Last week I decided to switch it up and posted a This or That: YA Author Edition! Where I super mean and cruel and pitted your favourite YA Authors against each other, muahaha!
Thank you to everyone who participated in this week's survey! If you missed this weeks, have no fear, there will be another one next week!
Let's see who won!
Rick Riordan vs. J.K. Rowling
Winner is….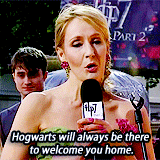 At 

76.5%

 of the vote, J.K. came in and accio the heck out of this one!
Sarah J Maas vs. Marissa Meyer
Winner is….
SJM slays this one, at 65% of the vote!!
Victoria Aveyard vs. Veronica Roth
Winner is….
The Red Queen herself, crushing hearts left & right, takes the win with 

62%

 of the vote!!
Cassandra Clare vs. Holly Black
Winner is….
Holly Black was fae-ted to win! *heehee* She dominated over Clare by taking 72% of the vote!
Tahereh Mafi vs. Neil Schusterman
Winner is….
Now this was a tight race, but Neal Schusterman gleaned the win by a hair, and won with

54%

of the vote!
Leigh Bardugo vs. Laini Taylor
Winner is…
Bardugo in it for the win, she took it home with 

67%

 of the vote!
That's it for this week! Any of the results surprising? Out of all who won, who is your top favourite? Are there any other authors you'd like to see go head to head? Let me know in the comments!
Look forward to chatting with you! Happy Reading!